Baxter 2F7144 – SOLUTION, TIS-U-SOL, PENTALYTE, IRR, 1000ML, 12/CS
Baxter 2F7144 – SOLUTION, TIS-U-SOL, PENTALYTE, IRR, 1000ML, 12/CS
TIS-U-SOL Solution (Pentalyte Irrigation), 1000 mL Plastic Pour Bottle
TIS-U-SOL- sodium chloride, potassium chloride, magnesium sulfate, sodium phosphate, and potassium phosphate irrigant
Tis-U-Sol Solution (Pentalyte Irrigation)
Each 100 mL contains: 800 mg Sodium Chloride, USP, 40 mg Potassium Chloride, USP, 20 mg Magnesium Sulfate, Heptahydrate, USP, 8.75 mg Dibasic Sodium Phosphate, Heptahydrate, USP, 6.25 mg Monobasic Potassium Phosphate, NF. No antimicrobial agent has been added. pH 6.5 (4.0 to 7.0). Osmolarity 288 mOsmol/L (calc.). Sterile, nonpyrogenic. Pour Bottle.
Indications and Usage
Isotonic solution for irrigation only. Not for injection.
Dosage and Administration
As directed by a physician.
Cautions: Warm in oven to not more than 50? for a maximum of 60 days. Discard after 60 days of warming. Do not use unless solution is clear and seal is intact. Discard unused portion. Rx only.
How Supplied
Recommended storage: Room temperature (25?). Avoid excessive heat
Contains DEHP
Diethyl hexyl Phthalate, A chemical commonly used in PVC tubing; used to yield clarity and soft pliable tubing.
Contains PVC
Polyvinyl chloride (PVC) plastic is used to manufacture a huge number of articles for daily life, e.g. toys, building material such as flooring, cables, as well as medical products. PVC is the most widely used thermoplastic material in medical devices due to its:
Safety
Before medical devices can be used all the components must be fully understood from a toxicological point of view. Consequently all the materials used to make such components have to be thoroughly tested and assessed in the EU before being accepted. Experience based on all available knowledge from international environmental and healthcare authorities shows that PVC is safe. It is the best material existing today which optimises all performance and safety requirements at lowest cost.
Chemical stability
Material used in medical applications must be capable of accepting or conveying a variety of liquids without themselves undergoing any significant changes in composition or properties.
Biocompatibility
Whenever plastics are used in direct contact with the patients tissue or blood, a high degree of compatibility is essential between the tissue/bloodand the material. The significance of this property increases with time over which plastic is in contact with the tissue or blood.PVC is characterised by high biocompatibility, and this can be increased further by appropriate surface modification.
Clarity and transparency
Because of its physical properties, products made from PVC can be formulated with excellent transparency to allow for continual monitoring of fluid flow. If colour-coded application is needed, virtually any colour can be created.
Flexibility, durability and dependability
Not only does PVC offer the flexibility necessary for applications such as blood bags and IV containers, but can also be relied upon for its strength and durability, even under changing temperatures and conditions.
Packaging Labeling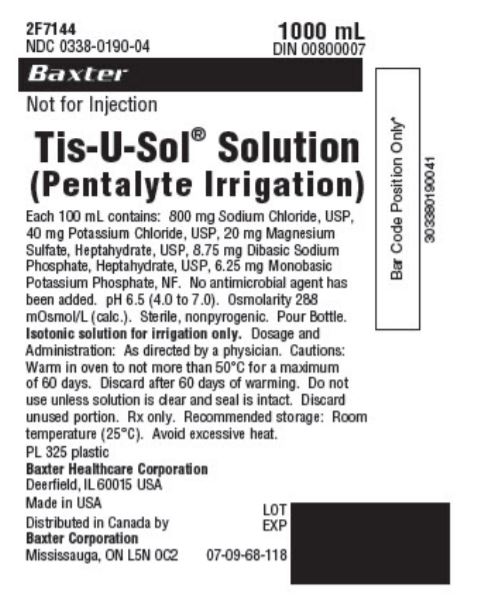 Product Characteristics
| | |
| --- | --- |
| Manufacturer No. | 2F7144 |
| Application | Irrigation Solution |
| Type of contaienr | Bottle |
| Dosage Form | Not for Injection |
| Latex: | Not Made with Natural Rubber Latex |
| PVC: | Contains PVC |
| DEHP: | Contains DEHP |
| Concentration: | RX Only |
Packing Information
| | |
| --- | --- |
| Length: | 14.9 IN |
| Width: | 11.2 IN |
| Height: | 10 IN |
| Volume: | 0.97 FC |
| Weight: | 30.65 LB |
| Pack Factor: | 12 |