Baxter 6N8378 - Extension Set V-Link Std Bore 0.8mL 6.5" 50/Ca
Baxter 6N8378 – Extension Set V-Link Std Bore 0.8mL 6.5″ 50/Ca

V-LINK Non-DEHP Catheter Extension Set with V-LINK Luer Activated Device with VITALSHIELD Protective Coating, Male Luer Lock Adapter with Retractable Collar, Approximate Length 6.5″ (16.6 cm), Approximate Volume 0.8 mL
The Baxter V-LINK Luer Activated Device with VitalShield Protective Coating was one of the products selected for an evaluation. Intravascular catheters are widely used in modern medical practice for the administration of drugs and fluids and for haemodynamic monitoring but they are also recognised as being one of the largest cause of hospital-acquired bacteraemia and are associated with significant increases in medical costs and length of hospital stay. Baxter has developed a technology called VitalShield Protective Coating which is applied to the interior and exterior surfaces of the V-LINK connector. This coating results in the controlled release of silver ions, which are a well-known antimicrobial substance, effective against a wide spectrum of microorganisms.
Baxter's V-LINK device is a key addition to a broad line of needleless IV access products and is based on a well-known design: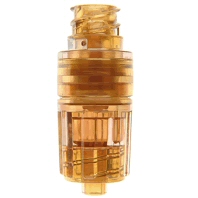 Needleless IV access device
Flat, swabable surface
Translucent housing
Double-seal protection
Promotes standardized technique
Technique and Technology are Needed to Fight Pathogens
Every day, you do all you can to prevent microbial contamination – Proper aseptic technique at the IV insertion site can reduce extraluminal contamination (outside the catheter walls)
Study results concluded that after specific preventive measures have been taken, 60% of catheter-related bloodstream infections (CR-BSIs) are likely to originate from the catheter fluid path – Technology to help protect the intraluminal pathway (the fluid path) is also needed to further reduce the risk of CR-BSIs

*These in vitro test results of typical devices have not been shown to correlate with a reduction in infections.
Fights pathogen contamination and microbial growth in the fluid path
Consistently high efficacy across multiple bacterial strains
Demonstrated durability and efficacy over 96 hours
Proprietary VitalShield Silver Antimicrobial Coating
Empowering you to fight an ever-present danger

Unique coating designed to help prevent microbial contamination and growth of pathogens in the device
Interior and exterior surfaces coated through a process that deposits silver nanoparticles* that serve as reservoirs of bactericidal silver ions
Controlled release of silver ions when in contact with solution
Silver kills pathogens through multiple pathways. Literature indicates that the primary modes of action are believed to include:

Binding to DNA, inhibiting replication and transcription
Causing structural changes to microbial cell walls
Attacking multiple sites in the cell simultaneously
Contraindication
The V-LINK device is contraindicated for individuals with hypersensitivity to silver or silver components.
Instructions for Use
Rx only. For safe and proper use of this device, please refer to the complete instructions for use.
DEHP Free
Our IV sets are DEHP free. Infusion Therapy Standards of Practice advise to usee administration sets free of di-ethylhexyl-phthalate (DEHP) to administer lipid-based infusates, such as IVFE or TNA. DEHP is lipophilic and is extracted into the lipid solution with commonly used polyvinyl chloride administration sets and containers. DEHP is considered a toxin, and studies have demonstrated increased DEHP levels in lipid solutions, which is especially a risk with neonatal, pediatric, and long-term home care patients (42).