BD 306522 – SALINE SYRINGE
306522 – 5 mL BD Pre-Filled Normal Saline Syringe, in 5 mL syringe with BD Blunt Plastic Cannula (NHRIC: 8290-306522)
Pre-Filled Normal Saline Syringe with Blunt Plastic Cannula
BD PosiFlush Pre-Filled Saline Syringes offer all the benefits of traditional pre-filled syringes, plus unique features to enhance catheter maintenance protocols.
Key Product Features
| | |
| --- | --- |
| Preservative Free | Product is preservative free |
| Pyrogen Free | Product is pyrogen free |
| Syringe Tip Orientation | Concentric |
| Syringe Tip Type | BD Blunt Plastic Cannula, BD Luer-Lok |
| Syringe Scale | 0.5 mL graduations |
| Total Shelf Life | 1095 |
| Sterile | Sterilized product |
| Concentration | 5 mL fill in 5 mL syringe |
| Safety Engineered | Safety engineered product |
| Safety Engineered Feature | Needleless |
| Sterilization Method | Gamma radiation, Aseptically filled |
| BPA Free | Not made with BPA |
| DEHP Free | Not made with DEHP |
| Latex Statement | Not made with natural rubber latex |
| PVC Free | Not made with PVC |
| Disposable | Disposable product |
| Single Use | Product is for single use only |
Designed to Meet Your Needs
Designed to Enhance Best Clinical Practice
Flush with the smallest recommended volume
Infusion Nurses Society (INS) recommends that the minimum volume of the final flush solution should be twice the labeled priming volume of the catheter and any added devices.

A 3 mL BD PosiFlush Saline Syringe provides more than twice the priming volume recommended.
Consistent 10 mL diameter designed to lower the risk of catheter damage
Syringe size has an impact on the risk of catheter damage. Smaller diameter syringes generate greater amounts of pressure than larger diameter syringes.
Choose any size BD PosiFlush Syringe for lower pressure due to the 10 mL syringe diameter (as compared to standard syringes). All BD PosiFlush Syringes assure compliance with PICC manufacturer recommendations for with a 10 mL diameter syringe.
Use the appropriate flushing volume for sodium-restricted patient needs
Through the unique design of BD PosiFlush, clinicians can deliver the appropriate volume with minimum salt impact in a 10 mL diameter syringe.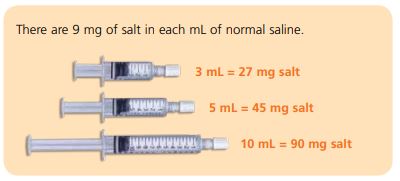 Usage Guidelines
Do not place BD PosiFlush Pre-Filled Syringes on a sterile field.
1. Tear open package at either end and remove syringe

2. Depress plunger with tip cap on to relieve the resistance
between the stopper and the barrel (Fig.1).

3. Using aseptic technique, remove the syringe tip cap from the FLUSH syringe by twisting it off.

4. Attach BD Blunt Plastic Cannula and remove tip shield (Fig. 2).

5. Hold the syringe upright and expel the air in the syringe.
Note: When expelling air/fluid from a syringe, contents exit sideways from the cannula in two separate paths (Fig. 3). Expel air or fluid carefully, directing flow paths away from face or mucous membranes.

6. Attach the syringe to the injection site and flush following institutions policy.

7. Discard used syringe and any unused portion of the solution according to institution policy (Fig. 4). Do not reuse.

Note: 2mL, 3mL, 5mL and 10mL BD PosiFlush syringes all have the same diameter as a standard 10mL syringe and may be used for flushing catheters when protocols stipulate use of a 10mL syringe to minimize flush pressure (PSI).
Product Packaging Information
| | | | |
| --- | --- | --- | --- |
| Packaging Level | Shelfpack | Case | Each |
| Quantity | 30 | 120 | 1 |
| Length | 203.0 mm | 273.0 mm | |
| Width | 127.0 mm | 241.0 mm | |
| Height | 114.0 mm | 222.0 mm | |
| Weight | 623.5 g | 2.495 kg | 20.792 g |