BD 385102 Q-Syte Extention Set LL Microbore 6 Inch 200/CS
As demand for our products continues to rise, our inventory levels are changing rapidly on a daily basis. If you need your order shipped immediately, please contact us as soon as possible so we can ensure that your order is fulfilled in a timely manner.

Orders@healthsupply770.com
Phone: 850-708-4904

BD 385102 – Q-Syte Ext Set LL Microbore 6″ 200/CS
BD Q-Syte Luer Access Split-Septum with 15cm (6 In.) Small Bore Extension Set, Fixed Nut
The BD Q-Syteneedle-free connector has a split septum design that adheres to guidelines for reducing CRBSIs set by the Centers for Disease Control and Prevention (CDC) and the International Nosocomial Infection Control Consortium (INICC).
The BD Q-Syte luer activated split septum is a true split septum device that combines luer access with a split septum valve to provide a closed IV system. As a true split septum device, it conveniently provides a simple fluid path with no internal mechanism and a clear housing that allows you to easily view and assess the fluid path.
Smooth surface is easily cleaned prior to access.
No crevices or gaps around the surface to harbour bacteria.
Clear housing allows visual assessment of the fluid path.
Simple fluid path design reduces places for microbes to grow;4 this fluid path also delivers a better flow rate.
Key Product Features
| | |
| --- | --- |
| CE Marking | Yes |
| Weight (lbs) | 4.2000 |
| Product Sub Type | Short Extension Set (<12in) |
| Approximate Length (cm) | 15 |
| Approximate Length (in) | 6 |
| Approximate Priming Volume (mL) | 0.34 |
| Case Dimensions | 12.8in x 10.0in x 8.7in |
| Clamp | Slide |
| Luer Lock | Fixed Male Luer Lock |
| Manifold | None |
| Number of Back Check Valves | 0 |
| Number of Connectors | 1 |
| Number of Fuses | 1 |
| Removable or Bonded Connectors | Removable |
| Sterility | Content Sterile |
| Stopcock | None |
| Color of Tubing | None |
| T-Connector Type | None |
| Number of y-sites | 0 |
| Y-Site Port Type | None |
| Type of Connector | Q-Syte |
| Filter | None |
| Tubing Size | Smallbore |
| Quantity | 200 |
| Latex Statement | Not made with natural rubber latex |
A Split-Septum Needleless Access System Has 64% 70% Lower CRBSI Rates Than Mechanical Valves
The Department of Health has estimated that are 300,000 healthcare associated infections each year. The Health Protection Agency reported that bloodstream infections have increased from 80,000 in 2003 to 105,000 in 2007. The National Audit Office report on reducing Healthcare Associated Infections in June 2009 reported that 44% of bloodstream infections are associated with invasive devices, two thirds of these due to intravenous access devices such as peripheral and central line catheters. Although a small and seemingly inconsequential component of an infusion therapy system, a needleless access device can be the place of origin for microbial growth.
Purposefully simple in design and function, split-septum devices eliminate the complexities of mechanical valves, and with them, the places that may harbour bacteria. In fact, studies comparing devices found that patients are three times more likely, on average, to develop a catheter related blood stream infection (CRBSI) with the use of mechanical valves vs. a split-septum needleless access system.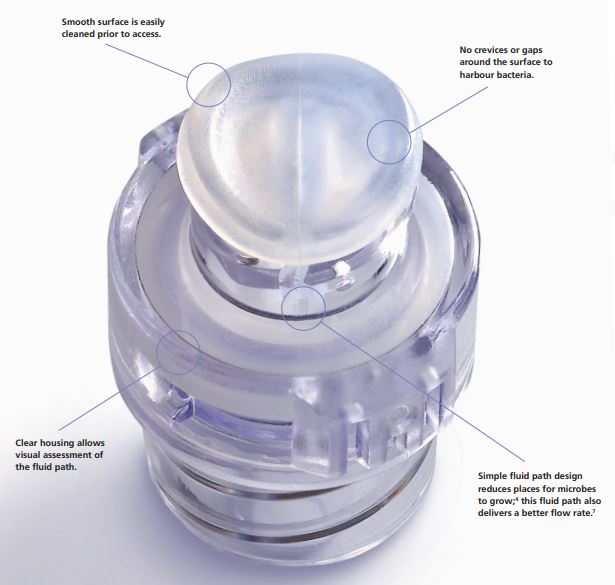 The Solution is in Simplicity
The split-septum concept was introduced to the needleless IV access device market with Interlink. BD understands that split-septum features such as simple internal design, ease of use, and a straight, clear fluid path, are critical to achieve CRBSI reductions. Now, BD Medical extends the benefits of split septum to the convenience of luer access with BD Q-Syte Luer Access Split Septum.
Ultimate Performance in Closed Luer Access
In addition to the benefits of split-septum design, the BD Q-Syte device delivers optimal luer access performance. Because of its straight and unobstructed fluid path, the BD Q-Syte device provides:
Dramatically higher flow rates7
U A low priming volume
U Flexibility to use ISO-compatible luer slip or luer lock connection
Flow Rate Comparison Luer Access Devices

Simple design. Dramatic results.
The Impact of Needleless Connectors on CRBSIs
Recently updated guidelines from the Centers for Disease Control and Prevention (CDC) offer critical, new evidence-based interventions to help you overcome the challenge of catheter related bloodstream infections (CRBSIs). Studies have shown that the rate of these infections may be reduced simply by the type of device clinicians use on their patients. When compared with mechanical valves, split-septum devices have 64%-70% lower CRBSI rates. Furthermore, there has been three Australian publications that demonstrated the introduction of mechanical valve access devices had resulted in a least a doubling of CRBSI rates.
A True Split-Septum by INS Standards
While many valves may claim to be split septum, the split-septum devices described in the evidence cited by the CDC were BD Q-Syte Luer Access Split Septum and Interlink. The 2011 Infusion Nursing Standards of Practice defines a split septum device as a simple needleless connector with a pre pierced septum that can be of blunt cannula or luer-lock design.7 What makes the BD Q-Syte device a true split septum is the simple fl uid path with no internal mechanism. This device eliminates the complexities of mechanical valves, and with them, the places that may harbor bacteria.
"The nurse should be aware that the catheter hub is a known source for the development of CRBSI and that needleless connectors are recognized sites for microbial contamination."
Helping You Meet Best-Practice Standards and Guidelines
BD has a range of products to support your needs to successfully implement critical standards and guidelines from the CDC and INS. It begins with BD Q-Syte, which has shown positive outcomes in peer-reviewed evidence. In addition, we will supply educational materials and conversion support.