Description
Covidien EGIAUSTND – HANDLE, ENDO GIA 4, STANDARD, 3/BX
Covidien's revolutionary new Endo Stapling system enables all surgeons to operate with confidence to handle the broadest range of tissues and applications with outstanding clinical performance. Covidiens Tri-Staple Technology provides Endo GIA reloads with outstanding performance across a broader range of tissue thickness, thereby simplifying the cartridge selection process.
Covidien's new Endo GIA Ultra Universal stapler combines an ergonomic design, precise articulation, and one-handed grasping, for increased versatility enhancing the user experience. Covidiens unique curved tip reload (with optional flexible introducer) provides surgeons with enhanced direct visualization, facilitates access to the surgical site, and the ability to dissect and manipulate tissue and vessels in various challenging stapling applications.
Covidien's unique black reloads enable surgeons to confidently and consistently staple in extra thick tissue applications previously beyond the indications of any MIS stapler.
Endo GIA Ultra Universal Stapler
Covidiens new Endo GIA Ultra Universalstapler delivers increased versatility whileenhancing the user experience.
Ergonomic Design: Lightweight handle fits comfortablyin all hand sizes and fires smoothly, even in thick tissue.
Precise Articulation: Up to 45-degree, controlledarticulation allows for improved access tochallenging anatomy.
One-handed Grasping Mechanism: Jaws can beopened and closed with one hand for precise graspingand manipulation of tissue.
Improved Unload Mechanism: Larger and moreaccessible button for easier reloading.
Forward/Backward Compatibility: Endo GIA UltraUniversal staplers can be used with Endo GIA Reloadswith Tri-Staple Technology, Endo GIA Straight andEndo GIA Roticulator reloads.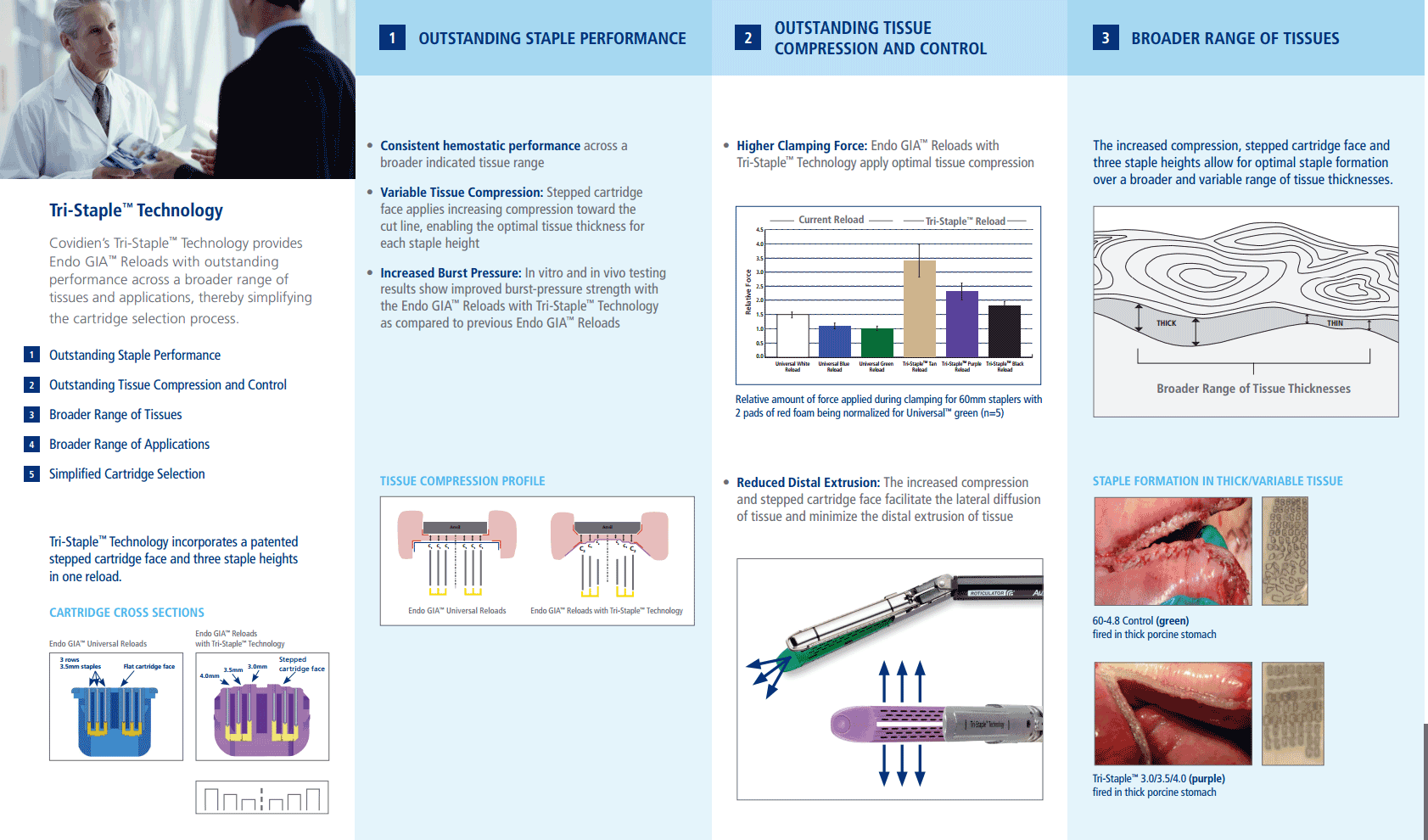 Features and Benefits
Endo GIA Reloads with Tri-Staple Technology
1.Tri-Staple Technology
Varied-height staples (two triple-staggered, height-progressive rows of titanium staples)


1. Improved burst-pressure strength (per results from bench testing). 2. Reduced tissue compression on outer staple row compared with Endo GIA Universal reloads. 3. Hemostatic inner staple row complements the robust outer staple row.
2.Advanced Tissue Compression
Stepped cartridge face


1. Intended to be used over a broader range of tissue thicknesses 2. Reduced force required to compress tissue to desired thickness 3. Facilitates lateral diffusion of tissue fluids during clamping and firing.
3.Stronger and Slimmer Fixed Anvil
Stronger fixed anvil made of heavier-gauge material, continuously welded.


1. Improved maneuverability of stapler around target tissue 2. Enhanced clamping force 3. Improved tissue retention during manipulation and transection.
4.Altered End of Staple Row Configuration
Four staples at the distal end of the cartridge.


Increased staple-line security on partially transected tissues.
5.New Knife Blade and Anvil with Each Reload
Reload comprises a complete assembly of a cartridge, anvil and knife bar.


1. Ensures sharp blade for each transection, minimizing tissue tearing 2. Eliminates impact of anvil bucket wear.
6.Stronger Knife Blade
Higher tensile strength and a stronger I-beam profile of the knife blade.


Smooth tissue transection in challenging thick tissue applications.
7.Stronger Knife Blade
Dog bone structure is similar to the anvil buckets used in DST Series staplers.


Facilitates formation of consistent B-shaped staples to provide optimal staple-line security.
8.Improved Firing Mechanism
Staples in the same horizontal line are formed one after another. The staple in the inner row (closest to the knife blade) is formed first, followed by the staple in the middle row and finally, the staple in the outer row.

Allows a certain lag in application of tissue compression as firing action moves from the inner to the outer staple row; this further facilitates lateral diffusion of tissue fluids during staple formation.
9.Forward and Backward Compatibility
Endo GIA Reloads with Tri-Staple Technology can be used with Endo GIA Ultra Universal staplers as well as Endo GIA Universal staplers.


1. Enhances choices for the surgeon 2. Enables the hospital Materials Manager to make a smooth transition from current to new technology devices.
10.Comprehensive Tissue Management Solution
Reloads come in three different lengths (30mm, 45mm and 60mm) and four different staple sizes intended to be used over a broader range of tissue thicknesses (vascular, vascular/medium, medium/thick and extra-thick).


1. Designed to provide stapling solutions for surgeons on all different kinds of tissues and vessels 2. Use over broader range of tissue thicknesses.